Under the Microscope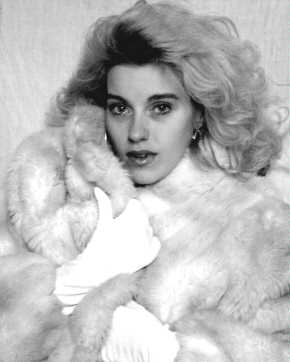 Credits
Several pageants,
Modeling,
Two modeling schools,
Leads in independent films,
Lots of small parts in teasers to independent films,
Stared in numerous live promotions & taped commercials for TV,
Played leading role in Birth of a Bitch Goddess,
Played extra in Swimming Upstream 2002, Directed by Robert J. Emery
Played "Helen" in The Cutting Room,
Feeding the Masses, by Scorpio Films - Spring 2004,
Playing a lead role in Phantom Obsession - Summer 2004.
Played the "Hotel Vampress" in ABE'S TOMB - The Movie - Fall 2006
Also, there are more projects currently in the works.
(Stats credits in full below.)

Nikky's Stats
Age: Ageless!
Height: 5'4"
Weight: 119
Chest: 33b
Waist: 28
Hips: 36
Hair: Blonde
Eye Color: Blue
Skin Color: White/Tanned




Print Work
"Post Mortem Magazine" interviewed 2004
Total Photographic Imagery
Rhode island Providence Film Festival Program Book 2003
Glamour Studios (Providence - Phoenix)
Life Touch Studios
Glamour Studios (Ad Model)
Photographer Jimmy James (several photo sessions for print and artist portfolio)
Photographer Hank Sousa (artist portfolio)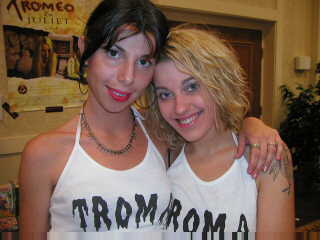 Nikky (right) posing with her best friend, Lyla Sullivin, at the Twisted Nightmare Weekend convention in Akron, Ohio, on Sunday, 9/21/03.
Watch for Nikky at the Sci-Fi and Fantasy conventions! She'll be the beautiful blonde melting the hearts of every male on the floor.




"I currently have more films in the works. I also travel to Sci-Fi and Horror conventions like Chiller, Twisted Nightmare Weekend, DragonCon and I'm planning on going to Fangoria. And I especially love vampire and fantasy films."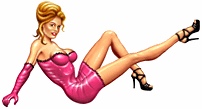 I just LOVE after-parties!
Nikky's E-Mail: Krylilsister@hotmail.com




Nikky's Full Official Stat Readout

Statistics: Height: 5'4" Weight: 120 lbs. Eyes: Blue/gray
Hair: Blonde Bust: 34b
Waist: 28 Hips: 34 Dress: 7/8 Pants: 5/6 Shirt:
Sm.-Med. Shoes: 8-8 1/2
Acting & Promotional Experience
"Feeding The Masses" Scorpio Film Releasing (Premier 9/2004)
Leading role in "Phantom Obsession" by TimberWolf Entertainment (2004)
"Cutting Room" Lazarus entertainment 2004 (not yet Released)
Interviewed on Scifi Ninja Theater @ ChillerTheatre April 2004 and Oct. 2003
Played extra in Swimming Upstream 2002, Directed by Robert J. Emery
"Bloody Giblets" & "Anal Paprika" (Troma Tribute as Tromette) Low Budget
Pictures 2004
Promo commentary for an Independent film (not yet released) 2003
Appearances on several local news, cable access ,and online interviews 2004
& 2003
Characters Portrayed: "Tooth fairy",& Barbie"
Appearance on An Hour w/Bob
Masquerade Fashion Show 2001
Magician's Assistant 2001
Factory of Terror (vampire show) 2001
"Swimmimg Upstream" (extra) 2000
"Birth of a Bitch Goddess" (lead role) 1999

Appearances
Cinema Wasteland - Fall, 2006
"Super Tromette " Chiller Theatre April 2004 "Super Tromette"
Cinemawasteland 2004
"Super Tromette" Frightvision 2004 "Super
Tromette" Chiller Theatre Oct. 2003
"Fleet of Angels" book by Carl Merritt (promotional model)
Frightvision 2004 & Cinema Wasteland 2004
"Super Tromette" Twisted Nightmare weekend 2003 "Super Tromette"
Dragon Con 2003
Providence Film Festival (appearance and ad model) 2003
Promotional work & Live Advertisements
Played the "Hotel Vampress" in ABE'S TOMB - The Movie - Fall 2006

Dunkin Donuts (Bigger Muffin), "Simon Says" (Jump Start Music Cd),
Parliament (Party Zone-Several Locations), EA Sports, Levis L2, Oreo Cookie
Stacking Contest, G.P.C. (George Strait Chevy Concert Tour), Febreeze Clean
Wash, Pantene Hair Care Products, Olay Total Effects, Swiffer Sweeper, Olay
Daily Facials, Revlon (liquid lip color), Physique Hair Care System, Dryell

Online appearances
Featured Tromette www.Troma.com
Featured model/actress for Fleet of Angels on www.carlmerritt.com
Interview w/Lloyd Kaufman on Entertainment Insiders www.einsiders.com
Various other websites for photos and interviews and appearances

Print work
"Post Mortem" magazine interview 2004
"Fleet Of Angels" (ad model) By Carl Merritt
Total Photographic Imagery
Rhode Island Film Festival Program Book
Glamour studios (Providence Phoenix) Lifetouch Studios
Glamour studios (ad Model) Photographer
Jimmy James (several photo sessions for print)
Photographer Hank Sousa (artist portfolio)<
"Post Mortem" cover girl 2004 & 2005






Experience
Since the age of 16, I have been in seven pageants, many fashion shows, hair shows, have done live commercials for Swiffer, Dryell, Camel, Parliament, GPC, Olay, Revlon, Pantene, Physique and more. I have acted in a small theater group in New Hampshire in a play called The Hollow. I've played leading roles and characters in independent films such as Birth of a Bitch Goddess, The Cutting Room, Feeding the Masses, Phantom Obsession along with many teasers and tributes to other independent films.
In my travels I have had the opportunity to meet many wonderful people who work in the industry. I've also had the pleasure to meet some of my personal favorites and have some pictures to show for it. Hopefully, someday I will get the chance to work with some of them . . . like David Carradine, Marc Singer, Tanya Roberts, Robyn Griggs, Patrick Kilpatrick, Michael Valenzano . . . just to name a few whom I really liked and enjoyed talking to.